Lacci by Daniele Luchetti  Starring Alba Rohrwacher, Luigi Lo Cascio, Laura Morante, Silvio Orlando, Giovanna Mezzogiorno, Adriano Giannini, Linda Caridi is the Opening Film of the 77th Venice Film Festival   Lacci, directed by Daniele Luchetti (La nostra vita, Mio fratello è figlio unico, Il portaborse) starring Alba Rohrwacher, Luigi Lo Cascio, Laura Morante, Silvio Orlando, Giovanna Mezzogiorno, Adriano Giannini, Linda Caridi is the Opening Film, Out of Com…
by Quendrith Johnson, Los Angeles Correspondent If you've attended the Santa Barbara International Film Festival (SBIFF), you'll know that The Maltin Modern Masters Award in honor of legendary author/critic Leonard Maltin is a coveted prize in Hollywood. Leonard Maltin has dedicated his life to researching not only the cinema classics, but also the contemporary Best Pictures, actors, directors, and screenwriters as they emerge in the New Hollywood. That said, it is fitting that Or…
August 31, 2020  Earlybird Deadline
The New York City Independent Film Festival (a.k.a. NYC Independent Film Festival, NYCIndieFF) is an annual film festival held in New York City. It was founded in 2009 by Dennis Cieri and Bonnie Rush. The festival has screened over 1,800 movies from 81 different countries since it began in 2010.
The Festival is focused on low budget and emerging, yet overlooked filmmakers, bringing their talent to culturally enrich the NYC community. The Festival aims to create the largest gathering of true indie filmmakers.
NYCIndieFF honors the Best in Category which includes Best Narrative Feature, Best Documentary, Best Short Documentary, Best Short Narrative, Best Super Short, as well as Best Director and Best Screenplay.
With a new section: the Covid-19 Diaries: tell us your story of hope and survival during the Corona lockdown. Short under 10 minutes
NYCIndieFF provides a showcase for the best in independent cinema, including short films, feature films, music videos, and animated works. With panels, parties and a week-long gathering of fellow indie filmmakers NYCIndieFF is the place to be May 16 – May 23, 2021.
____________________________________________________
Offering seven Sundays of weekly short films
Windrider Film Forum celebrates artists as they inspire us to find solutions to our problems through the "Lens of Hope".
Invitation to our Film Community
As a follow up to the Annual Windrider Film Festival which took place June 27th, Windrider is kicking off a NEW Summer Film Series. The film series will showcase seven independent short films and conversation with the filmmaker, over seven weeks beginning July 5th. Each film screening will be at 7PM PDT.  Easy registration to follow along with the Summer Film Series at: Windrider Bay Area Email List
Happy Summer Film Viewing!
-Windrider Bay Area:  http://www.windriderbayarea.org
____________________________________________________
by Quendrith Johnson, Los Angeles Correspondent Introduction: Moonyeenn Lee (1944-2020), daughter of actress Shirley Hepburn, who became a casting powerhouse known for putting together actors in films such as BLOOD DIAMOND, the Oscar-nominated MANDELA: LONG WALK TO FREEDOM, as well as HOTEL RWANDA, has died. Moonyeenn was nominated for two Emmy Awards for "The Looming Tower" and "Roots;" her legacy continues with director daughter Cindy Lee and her son David Lee. She s…

USA, 107 minutes, June 2020
One girl's nightmare. A nationwide reality.
After escaping from a sex trafficking ring, one teenage girl struggles to reconnect with herself and her family after her ordeal. Ultimately, in order to find herself and rescue her helpless friends, she must confront her own fears and help lead the police to her traffickers – no matter the cost.
Synopsis
Sixteen-year-old Angie Morgan feels like her parents don't understand her. After she is befriended by the charming and handsome Mario, everything seems to change for the better. He understands her desire to be a musician and promises to help her fulfill her dreams. However, her innocent, suburban life is upended when Mario lures her away to sell her to a local sex trafficking ring.
Angie is shocked and scared at her new found situations but clings to the belief that Mario loves her and that they will eventually both escape.  When it becomes clear to her that this will never happen, Angie is so overcome with shame and remorse for the life she is now trapped in and all seems hopeless.
When her closest friend and fellow victim, Zoe, finds out that Angie is about to be sold and shipped off to Miami, Zoe finds a way for them to escape. They make a desperate run for it. Angie escapes, but Zoe is not so lucky. Alone and heartbroken for her friend still imprisoned by their traffickers, Angie returns home to find that "normal" life is now anything but normal.
Burdened by her severe PTSD and guilt, Angie shies away from both her family and the police.  She is terrified that her traffickers will return for her (or worse, her little sister) if she provides any information to the police.
Luckily, Angie meets Rachel, a sex trafficking survivor turned caseworker, who is desperately searching for the girl who was in her care but taken back by her traffickers: Zoe. As Rachel lends her strength, Angie begins to consider standing up to the traffickers, and after witnessing brutal murders and mutilations of other girls at hands of the traffickers, Angie considers standing up to the traffickers.
Will Angie's fear hold her back? Or will she persevere to protect her family and help rescue Zoe and the others?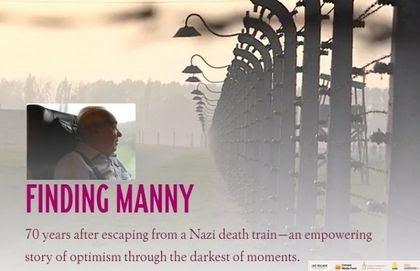 Canada, 56 minutes documentary, june 2020
The chance discovery of an online article sends a Holocaust survivor on an unexpected trip to visit the orphanage where he was rescued to after the war.
Manny Drukier narrowly escaped the war by jumping from a "death train" at age 16, finding refuge at a unique home for orphans and displaced children. 71 years later, Manny—who lives in Toronto—is tracked down by a German researcher who has dedicated a decade of her life to locating the surviving children from the home. She invites Manny to return to the orphanage, which has since become a grade school, to share his story with the next generation. Manny must now revisit the places of his darkest memories, to reconcile the past and educate the future.

BLUE MOTEL Award winning script by Ted Campbell
Feature film in production by Doval Bacall Films
Grand Winner Your Script Produced season 1  Platinum Remi Award WorldFest Houston
When his bank robber father injured in a recent heist seeks refuge at the desolate motel where he works, a motel clerk is forced to confront the truth behind a botched heist from his past.
Originally from Boston, Mass, Ted Campbell is a screenwriter and director who specializes in thoughtful, character driven thrillers. Ted will direct his heist thriller "Underground" with producer Ellen Wander of Film Bridge International. His contained, crime thriller "Blue Motel" won the Grand Prize in Your Script Produced screenplay competition. Ted will direct "Blue Motel" with Doval Bacall Films producing. Ted is a member of ISA's Development Program. And was named to ISA's Top 25 Screenwriters To Watch list.
Ted finds inspiration in the works of the great noir writers Dashiell Hammett, Raymond Chandler and Ross MacDonald as well as his screenwriting idols Scott Frank, Shane Black, Tony Gilroy and Richard Wenk.

Russia USA Feature documentary April 2020 Director's cut: 79 minutes
What happened, what can happen to the centuries old amazing wooden churches in north of Russia. Photographer Richard Davies trips to Russia and USA tell stories on human soul, hope and russian american…cooperation in restoring beauty.
Saving North is the story of a struggle for human and cultural survival in the mysterious and insular world of the Russian North. An outsider from England, photographer Richard Davies, enters this mysterious and vast region of the world with the hope of documenting both the glory and the tragic demise of its rapidly disappearing Wooden Churches. As Davies meets and becomes friends with the some of his Russian photo subjects, he finds himself getting emotionally involved with their struggle. He decides to put down his camera and get involved with church restoration.
Early on in our story Davies befriends the famed Russian architect Alexander Popov who is deeply involved in working to preserve and share with the world the beauty and value of these ancient structures. Popov has uniquely discovered and reinvigorated both the tools and processes that restore life back to the North. But it's an uphill battle against strong and powerful forces.
Together, Davies and Popov uncover the circumstances that led to the demise of the churches, and then join a small but growing group of passionate Russian citizens and outsiders from all walks of life who join the cause of Saving North.

SEKURITAS written and directed by Carmen Stadler
Romantic dark comedy 117 minutes 2019 Switzerland
Starring Kathrin Veith, Duraid Abbas Ghaieb, Jeanne Devos, Daniel Kasztura, Vilmar Bieri, This Maag
First feature film by Swiss director Carmen Stadler, produced by Claudia Wick for Abrakadabra Films AG
An office complex wishes for a love story before demolition. It chooses the lonely misfits for this story; those who go through security rounds at night, scrub toilets, experiment with recipes or rehearse their final speech. A poetic and twisted kaleidoscope that centers around desire, security and melodious noises which move through the entire fabric of the building.

USA 2019 Documentary 89 minutes
Duchamp: Art of the Possible is a feature documentary that explores the life, art, and philosophy of the 20th century's most influential modernists, Marcel Duchamp, and how his work single-handedly changed the course of art, and over time, culture itself.

The documentary film «THE MYSTERY OF A BURYAT LAMA», directed by Elena Demidova, tells a story of one of the most famous lamas, Pandido Khambo Lama Dashi Dorzho Itigelov. His body is recognized as one of the sacred Buddhist objects of Russia and is being kept in the Ivolginsky Datsan. The Buddhist monks approach him as a living person.
Itigelov was born in 1852 and began his religious education at the age of sixteen years. In 1911, he was appointed the twelfth Pandido Khambo Lama as the Head of Russian Buryat Buddhists. Between 1913 and 1917, Itigelov was prominent in the spiritual life of Russian Empire. He took part in the Tercentenary celebrations of the House Romanov and opened first Buddhist temple in St. Petersburg. During First World War Itigelov presided over the society of "Buryat brothers", an organization helping the Russian army. After October Revolution, Itigelov resigned as head of the Buddhists. In 1927, aged seventy-five years, he asked other lamas to begin meditation ceremonies and funeral rites, since he said he was about to die. Itigelov left a testament asking to be buried as he was at the time of his death, sitting in lotus posture. On September 11, 2002, Itigelov's body was eventually exhumed in the presence of the leaders of the Buddhist Traditional Sangha of Russia and transferred to Ivolginsky Datsan.
Synopsis I Trailer I Stills I Elena Demidova Director's filmography I Team I Request a screener I Festivals in Russia I EPK

"A film that Google does not want you to see  – filmfestivals.com Best for Fest"
An eye-opening documentary, The Creepy Line reveals the stunning degree to which society is manipulated by Google and Facebook and blows the lid off the remarkably subtle – hence powerful – manner in which they do it.
The Creepy Line is a title culled from the words of former Google CEO Eric Schmidt, when during a 2010 interview he explained Google's code of conduct: "The Google policy on a lot of things is to get right up to the creepy line and not cross it."
However, as Dr. Robert Epstein explains in the film, "Google crosses the creepy line every day".
Offering first-hand accounts, scientific experiments and detailed analysis, The Creepy Line examines what is at risk when these two tech titans have free reign to utilize the public's most private and personal data to manipulate society.
There is no question that the "creepy line" is getting ever-creepier, and that the tech giants have crossed it.
Rob Stewart "Conservation is the preservation of human life on earth. And that, above all else, is worth fighting for" Watch Rob Stewart doing what he loved most of all, swimming with sharks, in exclusive footage from his third film, Sharkwater: Extinction.
Sharkwater: Extinction is a follow up to his first two award-winning films, Sharkwater and Revolution. Sharkwater exposed the devastating issue of shark finning, while Revolution brought the destructive effects of Ocean Acidification to light.
Rob taught the world to not fear sharks, through his iconic images of hugging these majestic creatures and free diving with them.
www.Sharkwater.com     www.TheRevolutionMovie.com


over 40 festival wins so far
Eco Documentary feature film by Rob Stewart April 2015, 82 minutes (Sharkwater)
Revolution is a film about changing the world. The true-life adventure of Rob Stewart, this follow-up to his acclaimed SHARKWATER (36 festival wins) documentary continues his remarkable journey; one that will take him through 15 countries over four years, and where he'll discover that it's not only sharks that are in grave danger — it's humanity itself.
Website I Epk on filmfestivals.com I Trailer I Email us for a screener

> NEWS IN FRENCH
Nous sommes très fiers des bonnes relations et des partenariats signé avec les plus grands festivals et marchés : Venice Production Bridge, FestForums Santa Barbara, AFM, Animaze, Tallinn Black Night International Film Festival, Houston WorldFest, Fantasporto, et Cannes Market bien entendu et beaucoup d'autres. Nous sommes heureux de pouvoir grace à ces parteneriats pouvoir apporter news et dailies à …
[izvor informacije www.filmfestivals.com]