Mjuzikl 'Kosa' vjerojatno je jedan od najpoznatijih u povijesti mjuzikla. Iako je tema vijetnamskog rata odavno 'prošla', mogućnost društvene prisile na pojedinca u okviru 'napredne' civilizacije, aktualna je i zastrašujuća u bilo kojem kontekstu. Priča prati 'pleme' hipija koji demonstriraju svoj način života, konzumaciju tjelesnih uzitaka i narkotika, pacifizam i zajedništvo. Kada protagonist Claude dobije poziv za novačenje u vijetnamskom ratu, cijela grupa osjeća se pogođena. Uz strah, nude se rješenja za izbjegavanje sudjeovanja u ratu i poziva na bijeg…Ali teško je očekivati happy end u toj situaciji. Claude u konačnici prihvaća poziv i njegova kosa, simbol hipi pokreta, osobnih uvjerenja protivnih ratu i patnji, biva ošišana.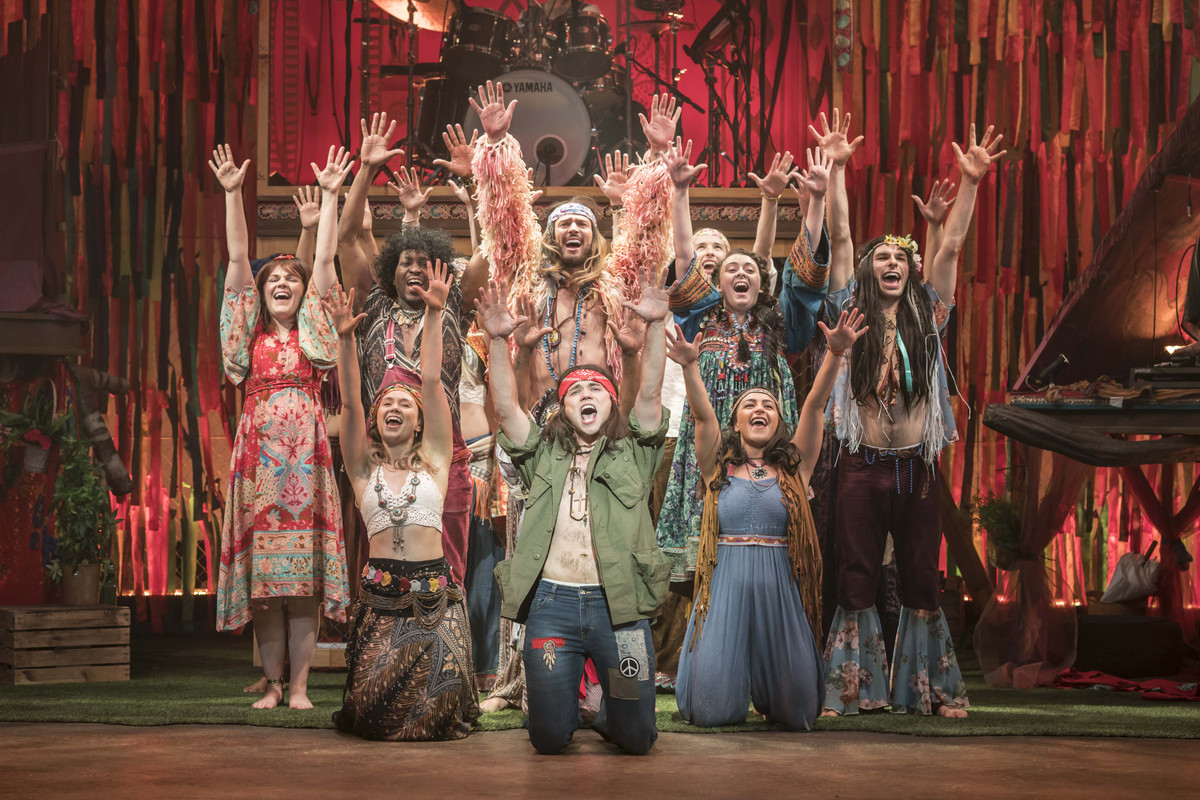 Hair – The Musical; Fotografiju ustupio The New Theatre Oxford
'Kosa' doživljava svoj revival u Velikoj Britaniji u glamuroznom izdanju.Vizualno impresivna scenografija djeluje plastično, rekli bismo ovdje, 'posh', što je u odmaku od hipijevskog 'modnog' izričaja, općenite ekspresije stavova, kupovne moći i načina zivota. Živopisna višebojna scenografija djeluje poput idealiziranog meksičkog pejzaža, kaktusa omotanih raznobojnim trakicama. Upotreba boja osobito je izražena tijekom 'prikaza' halucinacija – florescentne nijanse žute i narančaste ističu se na prigušenoj, maglovitoj pozadini.
Glumci/pjevači su  mladi i, kao i u ostalim mjuziklima koje smo pratili, iznimnih vokalnih sposobnosti, a njihova predanost ulozi izražava se i u 'goloj sceni' u kojoj se svi skinu pred publikom. Bend je prisutan na pozornici i glazbena podloga izvodi se uživo.
Zanimljiv aspekt mjuzikla njegova je interaktivnost s publikom.  Ne samo da izvođači  komuniciraju s gledateljima, već  i ulaze u gledalište. Tijekom izvođenja naslovne pjesme glumci i bend napuštaju svoje scenske pozicije i 'ulaze' u publiku, dodiruju i glade kosu prisutnih  (sto duža kosa, duže milovanje 🙂 ), a na samom kraju, publiku pozivaju na pozornicu (takozvani 'Be-In' finale).
Najpoznatije pjesme su, dakako, 'Aquarius', 'I got Life', 'Hare Krishna' i 'Let the Sunshine in'.
Wine reception prije predstave i tijekom pauze dobrodošao je aspekt PRESS večeri u ugodnom ambijentu 'The Ambassador' bara u kazalištu New Theatre Oxford.
Spomenimo da je najpoznatija filmska interpretacija 'Kose' istoimena uspješnica Milosa Formana iz 1979. godine.
Vendi Jukić Buča,Oxford, 27. lipnja 2019.
---
Legendary rock musical to tour UK
Following the critically-acclaimed 50th anniversary production of Hair – The Musical at Hope Mill Theatre and sell-out transfer to The Vaults, London, the celebrated production will now embark on a nationwide tour.
And it will come to the New Theatre Oxford from June 26 – 29, 2019.
This award-winning production (2018 WhatsOnStage Award – Best Off-West End Production) stars Dancing on Ice Winner Jake Quickenden, Daisy Wood-Davis (Hollyoaks/ Dreamboats & Petticoats) and Marcus Collins (X-Factor Finalist/ Kinky Boots).
Welcome to the 'Age of Aquarius'. It's 1967 and HAIR's hippie 'tribe' youngsters in the East Village of New York are yearning to change the world, questioning authority and the American flag. Wild, colourful, sexually liberated and free, they are united in protest and song, under the shadow of the Vietnam War.
Hair, which is adored for its Grammy award-winning score featuring iconic hits such as 'Aquarius', 'Let the Sun Shine In', 'I Got Life' and 'Good Morning Starshine' is written by Gerome Ragni (book and lyrics), James Rado (book and lyrics) and Galt MacDermot (music).
The 50th anniversary production is directed by Jonathan O'Boyle (Pippin, Rain Man, Aspects Of Love), who is reunited with the brilliant creative team from Hope Mill Theatre: Gareth Bretherton (Musical Director), William Whelton (Choreographer), Maeve Black (Designer), Ben M Rogers (Lighting Designer), Calum Robinson (Sound Designer) and producers Katy Lipson for Aria Entertainment, Joseph Houston & William Whelton for Hope Mill Theatre, Ollie Rosenblatt for Senbla, and associate producer Guy James.
Tickets can be purchased from the New Theatre box office on George Street, by ringing 0844 871 3020 or by visiting our website at www.atgtickets.com/oxford (phone and internet bookings subject to booking/transaction fee. Calls are charged at 7p per minute, plus your phone company's access charge.).
For bookings of 10 or more please call 0333 009 5392 (calls are charged at local rate – for group bookings only) and for access bookings please call 0800 912 6971 and speak to a member of our dedicated booking team.
[izvor informacije The New Theatre Oxford]