NOVO IZDANJE KVALIFIKACIJSKE UTRKE SWIMRUNA ZA SVJETSKO PRVENSTVO: HVAR JE 6. I 7. TRAVNJA DOMAĆIN ӦTTILӦ SWIMRUN SVJETSKE UTRKE – NA JADRAN STIŽU LJUBITELJI ADRENALINA IZ CIJELOG SVIJETA!
Treću godinu zaredom, Hvar će sljedeći vikend postati destinacija za preko 400 sportaša iz čak 20 zemalja svijeta, koji će sudjelovati u kvalifikacijskoj utrci za ӦTTILӦ Swimrun svjetsko prvenstvo.
ӦTTILӦ Swimrun Weekend Hvar otvara svjetsku natjecateljsku sezonu swimruna i još jednom potvrđuje da je, zahvaljujući svojim prirodnim ljepotama i povijesnoj baštini, jedna od najzanimljivijih destinacija za swimrun utrke u svijetu.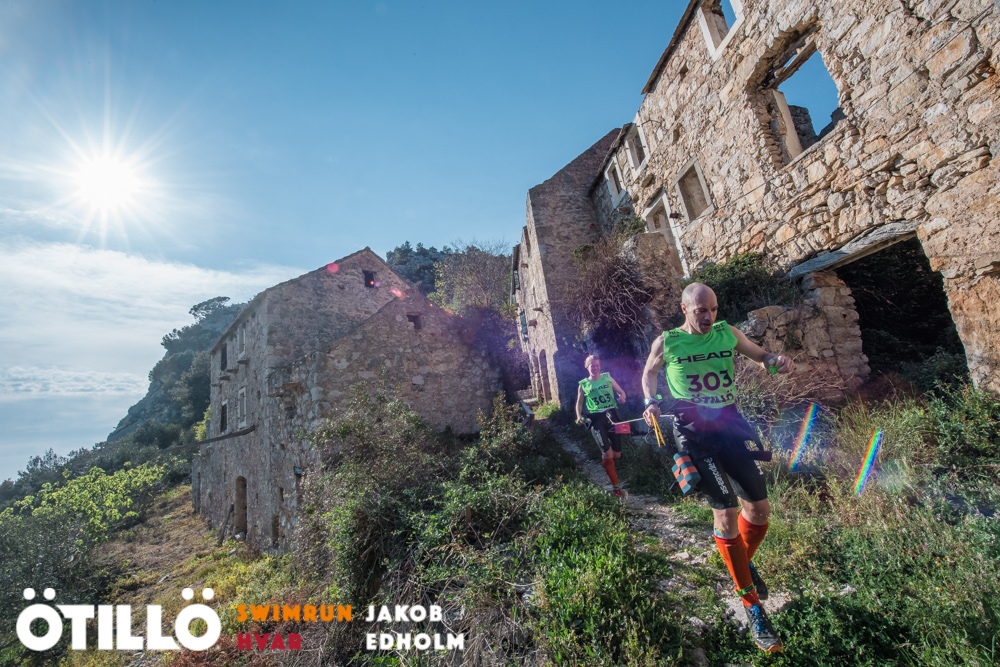 ӦTTILӦ Swimrun utrka ; Ustupio Grad Hvar
Ova inovativna sportska disciplina izdržljivosti, u kojoj sudionici trče i plivaju po zadanoj ruti rodila se u Švedskoj prije desetak godina, da bi nakon toga doživjela globalnu popularnost. Otvaranje swimrun sezone u Hvaru okupit će najbolje swimrun timove svijeta te rekordan broj sudionika, koje očekuju ugodne proljetne temperature, kristalno čisto more i prekrasni krajolici najsunčanijeg otoka na Jadranu.
Kvalifikacijska utrka, čija je staza duga preko 40 kilometara, i obuhvaća 32 kilometra trčanja i 9 kilometara plivanja, kreće s hvarske Pjace, a povezuje grad Hvar, poluotok Pelegrin, Paklene otoke, a sudionici se ponovno kroz grad, preko tvrđave Fortice, Poljuna, sela Malo Grablje, pa kroz Milnu – vraćaju natrag na hvarsku Pjacu.
"ӦTTILӦ Swimrun utrka na najbolji mogući način otvara proljetnu turističku sezonu grada Hvara– a veliko nam je zadovoljstvo ponovno ugostiti organizatore i natjecatelje ӦTTILӦ Swimrun World Series. Upravo je raznolikost gostiju dokaz kako je Hvar i poželjna destinacija aktivnog turizma!" – ističu suorganizatori, Grad Hvar i Turistička zajednica grada Hvara.
---
ÖTILLÖ Hvar kicks off the 2019 season
On April 6 & 7 the 2019 Swimrun season will start with a blast. ÖTILLÖ Hvar in Croatia will have the biggest starting field until date and with many of the absolute best teams in the world.
The last five months have been long and it seems as if the start of the ÖTILLÖ Swimrun World Series has been longed for.
ÖTILLÖ Hvar, off the Croatian coast is the ideal setting to start the season. Spring weather, crystal- clear waters and beautiful race courses over the whole weekend. More than 400 racers from more than 20 nations will travel to participate and to get the season started.
A great inspirational film for 2019
---
The 2019 ÖTILLÖ Swimrun World Series
The following races are the confirmed 2019 World Series races. One more might be added towards the end of the season.
Each of these races act as qualifiers and also generate ranking points towards ÖTILLÖ, The Swimrun World Championship; which is always held on the first Monday of September in the Stockholm Archipelago.
The races:
The World Championship
ÖTILLÖ, The Swimrun World Championship (14th edition) 2 September 2019 Images from 2018
75 km over and between 26 islands in the Stockholm Archipelago
Renowned as one of the toughest one-day races in the world (CNN 2012)
---
An ÖTILLÖ Swimrun Weekend
An ÖTILLÖ Swimrun weekend is a full immersion into the sport of swimrun and its community. You can now be either a beginner or elite and find the right race for you.
We usually have around 20 nations participating over the weekend with 400+ racers.
We start the Friday afternoon with a #cleantheocean activity where we spend an hour picking garbage from beaches and land in the vicinity of the start & finish area.
On Saturdays we have our Sprint & Experience races. These you can either do as a team (two persons) or solo.
The Sprint is approx. 15 km and the Experience is approx. 7 km. These two races really make it possible for any one to participate. The courses are fun and the camraderie is great. If you want to be competitive the front of the Sprint moves quite fast.
On Sundays we have the World Series event which is approx. 42 km It serves as a qualifier for the World Championship. These events can only be done as a team.
This means that a weekend gives an opportunity for anyone to either try swimrun for the first time or to be extremely competitive all under a world- class organization.
---
Golden Bib
The Golden bib is a challenge to our top teams. Any team (men, women or mixed) that wins six (6) races in a row with the same team mate will win 33 000€. The biggest cash prize in Swimrun.
---
Media
We produce images and video content from all events. On Sunday afternoons at around 5pm local time these are found under the dropbox link we send out together with the "results" press release.
Newscuts with shot lists are also available at the same time.
During the event weekends we have a big presence in social media under the #otillo and with the handle @otillorace.
You can also follow the race updates live on www.otilloswimrun.com/live
---
Press attendance
If you want to participate as a press team or if you want to attend the races live. Please contact Hannes at media.requests@otilloswimrun.com
---
#cleantheocean
We want to raise awareness about the fact that 80% of all plastic found in the ocean is thrown on land. This is why we every Friday have a joint "garbage hunting" activity with the local community.
[izvor informacije Grad Hvar]