Marché du Film 22-26 June 2020 Registration for the Marché du Film Online is now open! REGISTER NOW DON'T DELAY AND ENJOY OUR  EARLY BIRD RATE – UNTIL 29 MAY A standalone market with live and real-time screenings, events and meetings The Marché du Film Online will recreate the market experience in Cannes offering creative alternatives to facilitate business and networking for film industry professionals from all over the world. The online market will take…
August 20th, 2020 Extended Deadline
Paleochora Lost World Short Film Festival launched its 1st edition in June 2019 to a spectacular success. The 2nd edition of the festival returns in October 2020  in association with the Municipality of Kandanos-Selinou. The 'Lost World' of Paleochora nestles between the Mountains and Sea in South West Crete and is the perfect location for Filmmakers to convene to show their work, network with colleagues and enjoy our fabulous Cretan hospitality. We may be at the most southern point of Europe, but there are BIG Film things happening here and on the entire Island of Crete. Our main aim will be to select films which focus on great storytelling, whether fiction, documentary or any other accepted genre.
Screenings are held Under the Stars in the Town Hall Square with daytime programmes held at the fabulous Pearl Cavo oceanside venue.
SUBMIT I Website I Profile on filmfestivals.com I Facebook I Twitter I Email  contact
____________________________________________________
June 1, 2020 Earlybird Deadline
July 1, 2020 Regular Deadline
August 1, 2020 Late Deadline
Celebrating its 35th annual festival in 2020, the Fort Lauderdale International Film Festival (FLIFF) presents American indies and studio films, international films, student films, special tributes, seminars and introduces filmmakers to South Florida audiences. The festival runs November 6 – 22, 2020, and screens 200 films in Fort Lauderdale, Sunrise, Hollywood, St Augustine, and The Bahamas. Considered one of the most important regional film festivals in the U.S., the Festival's commitment to first-time filmmakers and innovative programming make it the perfect test market for your film.
SUBMIT I Website  I Facebook I Twitter I Profile on filmfestivals.com I  Email contact
____________________________________________________

Having studied Contemporary History at Leiden University (Netherlands) and at the Royal Netherlands Institute in Rome (Italy), Dutch-born Matthijs Wouter Knol worked as a freelance journalist and in film production, specializing in documentary films. He then worked for the International Documentary Film Festival Amsterdam (IDFA), was programme manager of Berlinale Talents for six years and, since 2014, has been Director of the European Film Market. He will remain in this position at the Berlinale with all responsibilities until he will join the EFA team in November 2020 to prepare his taking on full responsibility as EFA Director from Marion Döring in January 2021.

BLUE MOTEL Award winning script by Ted Campbell
Feature film in production by Doval Bacall Films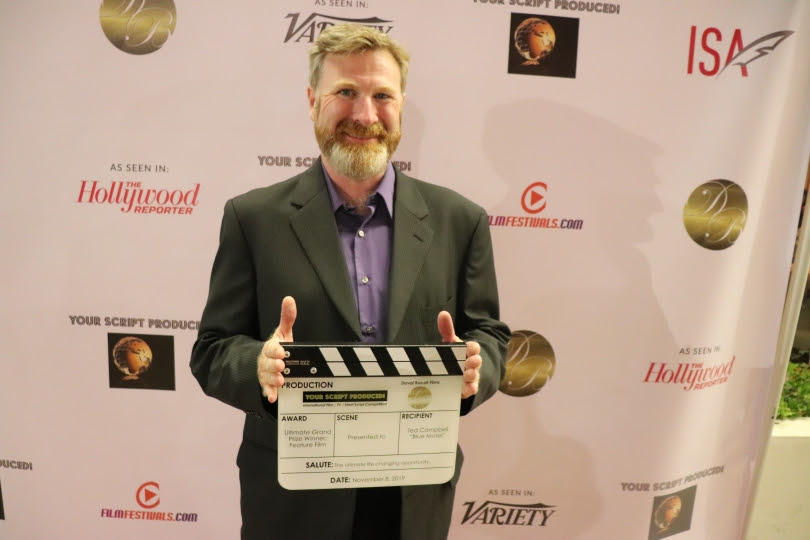 Grand Winner Your Script Produced season 1  Platinum Remi Award WorldFest Houston
When his bank robber father injured in a recent heist seeks refuge at the desolate motel where he works, a motel clerk is forced to confront the truth behind a botched heist from his past.
Originally from Boston, Mass, Ted Campbell is a screenwriter and director who specializes in thoughtful, character driven thrillers. Ted will direct his heist thriller "Underground" with producer Ellen Wander of Film Bridge International. His contained, crime thriller "Blue Motel" won the Grand Prize in Your Script Produced screenplay competition. Ted will direct "Blue Motel" with Doval Bacall Films producing. Ted is a member of ISA's Development Program. And was named to ISA's Top 25 Screenwriters To Watch list.
Ted finds inspiration in the works of the great noir writers Dashiell Hammett, Raymond Chandler and Ross MacDonald as well as his screenwriting idols Scott Frank, Shane Black, Tony Gilroy and Richard Wenk.

SAVING NORTH – A RUSSIAN AMERICAN ODYSSEY by J Mitchell Johnson

Russia USA Feature documentary April 2020 Director's cut: 79 minutes
What happened, what can happen to the centuries old amazing wooden churches in north of Russia. Photographer Richard Davies trips to Russia and USA tell stories on human soul, hope and russian american…cooperation in restoring beauty.
Saving North is the story of a struggle for human and cultural survival in the mysterious and insular world of the Russian North. An outsider from England, photographer Richard Davies, enters this mysterious and vast region of the world with the hope of documenting both the glory and the tragic demise of its rapidly disappearing Wooden Churches. As Davies meets and becomes friends with the some of his Russian photo subjects, he finds himself getting emotionally involved with their struggle. He decides to put down his camera and get involved with church restoration.
Early on in our story Davies befriends the famed Russian architect Alexander Popov who is deeply involved in working to preserve and share with the world the beauty and value of these ancient structures. Popov has uniquely discovered and reinvigorated both the tools and processes that restore life back to the North. But it's an uphill battle against strong and powerful forces.
Together, Davies and Popov uncover the circumstances that led to the demise of the churches, and then join a small but growing group of passionate Russian citizens and outsiders from all walks of life who join the cause of Saving North.

SEKURITAS written and directed by Carmen Stadler
Romantic dark comedy 117 minutes 2019 Switzerland
Starring Kathrin Veith, Duraid Abbas Ghaieb, Jeanne Devos, Daniel Kasztura, Vilmar Bieri, This Maag
First feature film by Swiss director Carmen Stadler, produced by Claudia Wick for Abrakadabra Films AG
An office complex wishes for a love story before demolition. It chooses the lonely misfits for this story; those who go through security rounds at night, scrub toilets, experiment with recipes or rehearse their final speech. A poetic and twisted kaleidoscope that centers around desire, security and melodious noises which move through the entire fabric of the building.

Marcel Duchamp: The Art of the Possible written  and directed by Matthew Taylor
USA 2019 Documentary 89 minutes
Duchamp: Art of the Possible is a feature documentary that explores the life, art, and philosophy of the 20th century's most influential modernists, Marcel Duchamp, and how his work single-handedly changed the course of art, and over time, culture itself.

THE MYSTERY OF A BURYAT LAMA», directed by Elena Demidova
The documentary film «THE MYSTERY OF A BURYAT LAMA», directed by Elena Demidova, tells a story of one of the most famous lamas, Pandido Khambo Lama Dashi Dorzho Itigelov. His body is recognized as one of the sacred Buddhist objects of Russia and is being kept in the Ivolginsky Datsan. The Buddhist monks approach him as a living person.
Itigelov was born in 1852 and began his religious education at the age of sixteen years. In 1911, he was appointed the twelfth Pandido Khambo Lama as the Head of Russian Buryat Buddhists. Between 1913 and 1917, Itigelov was prominent in the spiritual life of Russian Empire. He took part in the Tercentenary celebrations of the House Romanov and opened first Buddhist temple in St. Petersburg. During First World War Itigelov presided over the society of "Buryat brothers", an organization helping the Russian army. After October Revolution, Itigelov resigned as head of the Buddhists. In 1927, aged seventy-five years, he asked other lamas to begin meditation ceremonies and funeral rites, since he said he was about to die. Itigelov left a testament asking to be buried as he was at the time of his death, sitting in lotus posture. On September 11, 2002, Itigelov's body was eventually exhumed in the presence of the leaders of the Buddhist Traditional Sangha of Russia and transferred to Ivolginsky Datsan.
Synopsis I Trailer I Stills I Elena Demidova Director's filmography I Team I Request a screener I Festivals in Russia I EPK

"A film that Google does not want you to see  – filmfestivals.com Best for Fest"
…
[izvor informacije www.filmfestivals.com]