Judy (2019.)
Redatelj: Rupert Goold
Glume: Renée Zellweger, Bella Ramsey, Rufus Sewell, Finn Wittrock, Michael Gambon
Judy Garland planetarno je poznata kao Dorothy, glavna junakinja kultnog uvjetno dječjeg filma 'Čarobnjak iz Oza' (The Wizard of Oz; 1939.) koji potpisuje Victor Fleming, ali su suradjivali i George Cukor, Mervyn LeRoy, Norman Taurog & King Vidor (na scenama iz Kansasa). Tada sedamnaestogodišnja Judy Garland ostvarila je holivudski san i postala filmska zvijezda, ali ne zbog redateljskog rukopisa petorice tada visokopozicioniranih redatelja, već zbog čelične ruke producenta Louisa B. Mayera, koji ne samo da je kontrolirao Judy Garland ispred kamere, nego i njezin privatni život. Judy Garland snimila je četrdeset filmova, a zadnji, musical 'I Could Go on Singing' u režiji Ronalda Neamea, snimila je 1963.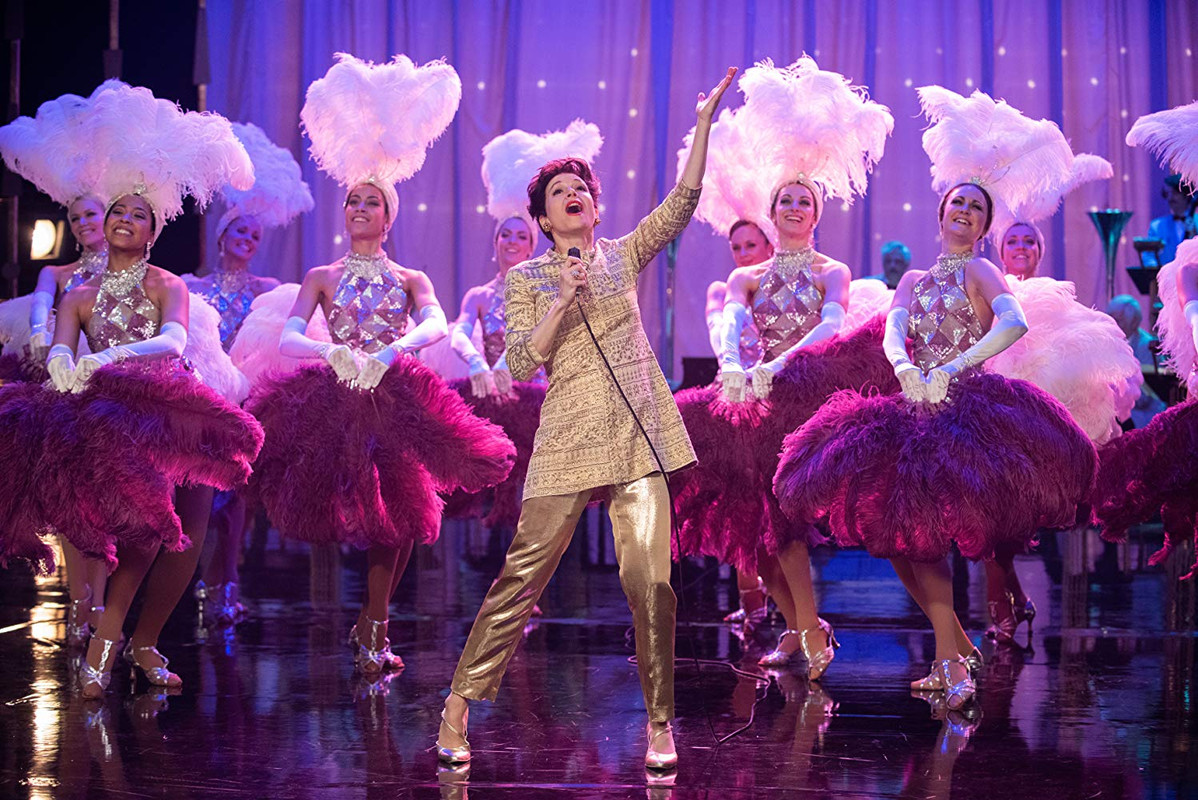 Judy ; Fotografiju ustupio Pa-Dora
Biografski film 'Judy' odigrava se tijekom zadnjih godinu dana života alkoholizirane glumice koja je izgubila životne iluzije i mogućnosti angažmana. Nitko ne želi raditi s njom na filmu kao i s pjevačicom jer je nepouzdana i nepredvidljiva. Kao spas dolazi joj ugovor za nastup u Velikoj Britaniji. Tamo je ne poznaju u njezinom pravom izdanju kojim se zamjerila estradnim menadžerima, i to se čini kao novi početak. Ispočetka joj nije bilo lako, a onda je publika nagrnula na njezine koncerte…
Biografska drama koncentrira se na dva razdoblja života Judy Graland, na njezinu britansku turneju i ulogu u 'Čarobnjaku iz Oza' koja je ostavila trajan utjecaj na njezin daljnji život. Kao djevojčica (glumi je Darci Shaw) imala je strahovit pritisak producenta L. B. Mayera (Richard Cordery) koji je graničio sa zlostavljanjem. Judy se, između ostalog, morala držati beskonačnih dijeta kako bi održala image djevojke s kojom se treba poistovjetiti generacija tadašnjih mladih. U stalnoj konfuziji stvarnosti i sjećanja Judy Garland (Renée Zellweger) ponovit će uobičajene greške, a slijedit će i njezin peti brak s prijateljem (Finn Wittrock) koji joj je u jednom trenutku dao podršku. Film upečatljivo pokazuje mračnu sudbinu filmske zvijezde koja se nije znala nositi sa svojom slavom. Renée Zellweger gotovo je neprepoznatljiva u ulozi tragičnog lika Judy Garland (1922. – 1969.), i na velika vrata vratila se na veliki ekran.
Redatelj Rupert Goold prethodno je, osim par televizijskih filmova, snimio dobro ocijenjenu kriminalističku dramu 'True Story' (2015.) s Jonahom Hillom i Jamesom Francom u glavnim ulogama
Robert Jukić, Zagreb, 03.11.2019.
Informacije o filmu:
Judy
BBC Films, Calamity Films, Pathe UK, 2019.
Trajanje: 118 min.
Format: 2.35 : 1
Color: Color
Zvuk: Dolby Atmos
Scenarij: Tom Edge
Priča: Peter Quilter (based on the stageplay 'End of the Rainbow' by)
Glazba: Gabriel Yared
Još glume: Darci Shaw, Richard Cordery, Jessie Buckley, Finn Wittrock, Andy Nyman, Gaia Weiss, Gemma-Leah Devereux, Phil Dunster, Royce Pierreson, Fenella Woolgar, John Dagleish
Film je pogledan u kinu CineStar Branimir
Nova Blu Ray izdanja: Čarobnjak iz Oza (dvostruko Blu Ray izdanje)