Ratni konj
War horse, National Theatre
Pogledano u New Theatre Oxford
Trajanje: 2'40" s pauzom
Redatelji: Marianne Elliott and Tom Morris
Prema prici: Michael Morpurgo
Glumci: Marcus Adolphi, Adam Barlow, Peter Becker
Ništa nije gore od nepravde u kojoj stradaju nevini, i ako su još k tome bespomoćni, mladi ili životinje onda je ta nepravda nepodnošljiva.
Predstava 'Ratni konj' (War Horse) vizualizira tu nepravdu kroz prikaz bojišta u Prvom svjetskom ratu.
Dječaku Albertu otac proda konja, o kojemu se brinuo od malena, vojsci za potrebe ratovanja. Albert je nezadrživ u nastojanju da pronađe svoga konja te odlazi na ratište gdje tijekom tri godine provede u potrazi za onim kojeg voli.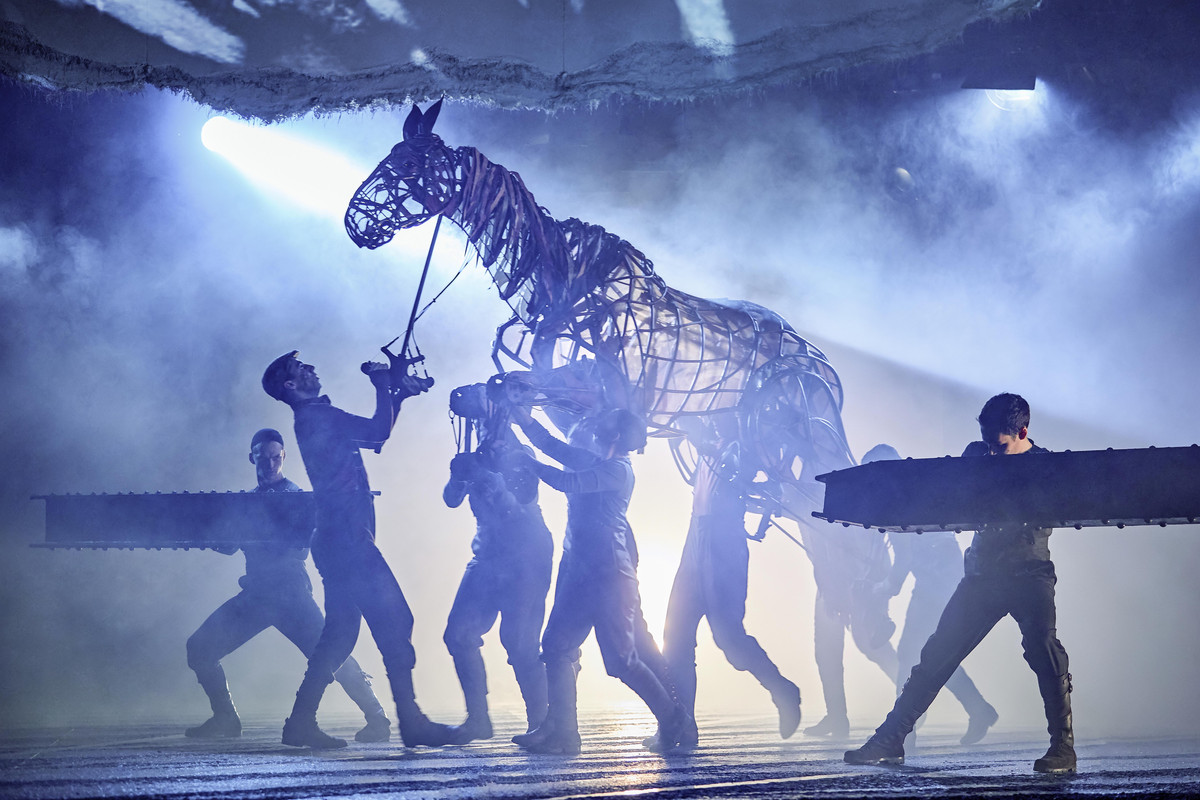 War Horse – Tom Stacey, Domonic Ramsden, Alex Keay. War Horse 2019. Photo_Brinkhoff&Mogenburg
No nije samo glavni protagonist konj Joey u emocionalnoj skrbi gledateljstva, već svaki konj, svaka životinja. Povezanost publike i životinja na pozornici postignuta je kroz otjelovljenje, oživljenost fantastičnog dizajna životinjskih lutaka u prirodnoj veličini, njihovog realizma i odnosa izmedju glumaca i lutaka – životinja (teško je u ovom slučaju referirati se na 'lutku' s obzirom da se radi o kompleksnom mehanizmu, ali nema drugog termina). Spomenuti realizam nije izražen toliko pomoću hiper realističnih detalja već preko konstrukcije zivučeg organizma – strukture pojedinih dijelova tijela, prirode pokreta i zvuka. Pažnja je usmjerena na anatomiju kostiju i mišića koji su delikatno istaknuti valovitim elementima konstrukcije. Svakog konja pokreću barem dvije osobe. Cilj nije bio prikriti njihovu prisutnost vec dodatno istaknuti kako bi njihova interakcija s lutkom bila vidljiva. Lutkari su perfektno usklađeni – pokret stražnje noge u skladu je s pokretom glave, trzajem uha, njištanjem, kopitarenjem prednje noge… Pokreti životinje tako su izvedeni potpuno prirodno. Lutkari su takodjer u kompletnoj sinhronizaciji s lutkom. Publici je u potpuno eksponiran lutkar koji pokreće glavu konja, dok se drugi nalaze u 'tijelu' i pokreću noge. Njegovi pokreti izvedeni su s izražajnom nježnošću, kao prema živoj životinji. On je taj koji konju daje karakter, nastupa kao utjelovljenje njegove osobnost i reflektira njegove emocije. Lutkari nisu sakriveni – njihovi kostimi prilagođeni su povijesnom razdoblju u kojem se predstava odvija (početak 20. stoljeća), boji konja kojeg pokreću te stilu džokeja – čovjeka u najbližoj relaciji s konjem.
Drugi vizualni impresivni element predstave su svjetlosni efekti u kombinaciji s projekcijskim zaslonom u obliku horizonta. Vrlo su izraziti, te u kombinaciji s neočekivanim i prodornim zvukom pištolja vrse izuzetan utjecaj na raspoloženje publike.
Osim sto predočava horor rata, predstava također demonstira razne vrste međuljudskih i međuživotinjskih odosa. Onaj koji je jednome neprocjenjv, za kojim će taj kojemu je neprocjenjiv  tragati četiri godine u ratnoj situaciji, drugome vrijedi 100 novaca. Jednima je životinja sluga, drugima su nezamjenjivi drug. Kada imate životinju o kojoj se brinete, koju neizmjerno volite i koja vam uzvraća pažnjom i maznjom onda ne možete ostati ravnodušni tijekom ove predstave (šmrcanje i uzdisanje su me okruživali, a i sama sam teško uspijevala zadržati knedlu u grlu).
Još jedna pojedinost me je impresionirala. Glumica koja glumi djevojčicu koja se u ratnim uvjetima brine za Joeya ima fizički hendikep (nedostaje joj desna podlaktica) koji nema veze s njezinom ulogom ili potrebom u predstavi!
Ovo je prva predstava (ne mjuzikl) koji smo pogledali u New Theatre Oxford. Povremene pjevne izvedbe u formi su podloge radnji, a ne zasebne dionice.
Na kraju su se poklonili i glumci i lutkari i njihove lutke.
Jos jedna ugodna press night rezultirala je dojmljivom predstavom i jakim osjećajima. Radujemo se skorašnjem gostovanju Davida Walliamsa i malo vedrijim temama.
Vendi Jukic Buca
Oxford, 23/8/2019
---
The National Theatre production of WAR HORSE will return to Oxford from 21 August – 7 September 2019
War Horse, the unforgettable theatrical event based on his beloved novel, will return to Oxford, to the New Theatre Oxford from Wednesday, August 21 – Saturday, September 7.
War Horse last played at the George Street venue at Christmas 2017 to sell out audiences. Tickets for the production go on sale at 10am on Friday, November 16.
Directed by Marianne Elliott and Tom Morris, Nick Stafford's adaptation of Michael Morpurgo's remarkable story of courage, loyalty and friendship, about a young boy called Albert and his horse Joey, set against the backdrop of the First World War is the most successful play in the National Theatre's history. It features ground-breaking puppetry work by South Africa's Handspring Puppet Company, which brings breathing, galloping horses to life on stage.
Michael Morpurgo said:  'Joey, the War Horse and his great team from the National Theatre, are touring the UK again, taking their show all over the country, to towns and cities. I am so pleased this is happening; that so many more people will have the chance to enjoy this unique theatrical event. Steady boy, steady Joey. Trot on!'
War Horse, which has been seen by over seven million people worldwide, completed its record-breaking eight year London run at the New London Theatre in March 2016.  It has won 25 awards including the Tony Award for Best Play on Broadway.
War Horse received its world premiere on 9 October 2007 at the National Theatre, where it played for two seasons before opening at the New London Theatre in March 2009.  Since then, the production has been seen in 97 cities in 10 countries, including productions on Broadway, in Toronto and Berlin, with touring productions in the UK and Ireland, North America, the Netherlands, Belgium and China.
War Horse is directed by Marianne Elliott and Tom Morris, designed by Rae Smith, with puppet direction, design and fabrication by Basil Jones and Adrian Kohler for Handspring Puppet Company, lighting by Paule Constable, and movement and horse choreography by Toby Sedgwick, with video design by Leo Warner and Mark Grimmer for 59 Productions, songmaker John Tams, music by Adrian Sutton and sound by Christopher Shutt.
Katie Henry is the revival director and Craig Leo is the associate puppetry director.  They are joined by resident puppetry director, Matthew Forbes and resident director, Charlotte Peters.
Cast to be announced.
War Horse is produced on tour by the National Theatre.
Tickets can be purchased from the New Theatre box office on George Street, by ringing 0844 871 3020 or by visiting our website at www.atgtickets.com/oxford (phone and internet bookings subject to booking/transaction fee. Calls are charged at 7p per minute, plus your phone company's access charge.).
For bookings of 10 or more please call 0333 009 5392 (calls are charged at local rate – for group bookings only) and for access bookings please call 0800 912 6971 and speak to a member of our dedicated booking team.
[izvor informacije The New Theatre Oxford]
---
About the National Theatre 
At the National Theatre, we make world-class theatre that is entertaining, challenging and inspiring. And we make it for everyone.
We aim to create work for the widest possible audiences with new plays, musicals, re-imagined classics and new work for young audiences. Our productions are seen in the West End, on tour throughout the UK, on Broadway, internationally, and in collaborations and co-productions with partners around the world. Through NT Live, we broadcast some of the best of British theatre to over 2,500 venues in 65 countries.
In 2017-2018, we opened 20 productions in our three theatres on London's South Bank. On top of that, we toured more work across the UK than at any other point in our history, with 10 productions visiting 52 venues in 44 towns and cities. Worldwide, 3.3 million people bought tickets to our award-winning productions, and a further 4.7 million people engaged with us through our free work, learning and participation activity, and in-depth digital content.
Our extensive learning and participation programme opens up theatre to adults, families and young people across the UK. We support drama and creative education in schools through our performance and writing programmes like Connections, New Views and Let's Play. Over 58% of UK state secondary schools have signed up to our free streaming service, On Demand In Schools since launching in 2015. Public Acts, our new initiative to create extraordinary acts of theatre and community, launched in 2017 in partnership with eight visionary community organisations and the Queen's Theatre Hornchurch.
The National Theatre is an Arts Council England National Portfolio Organisation.
nationaltheatre.org.uk
@nationaltheatre
@warhorseonstage