Filmski program se u britanskim kinima mijenja se u petak. Multipleks Curzon nalazi se u West Gateu u Oxfordu, a čiji program predstavljamo. Kino ima pet dvorana (144 + 172 + 134 + 82 + 82) sjedala, te kafić u kojem možete udobno pričekati, popiti kavu, piće ili nešto pojesti, prije projekcije filma.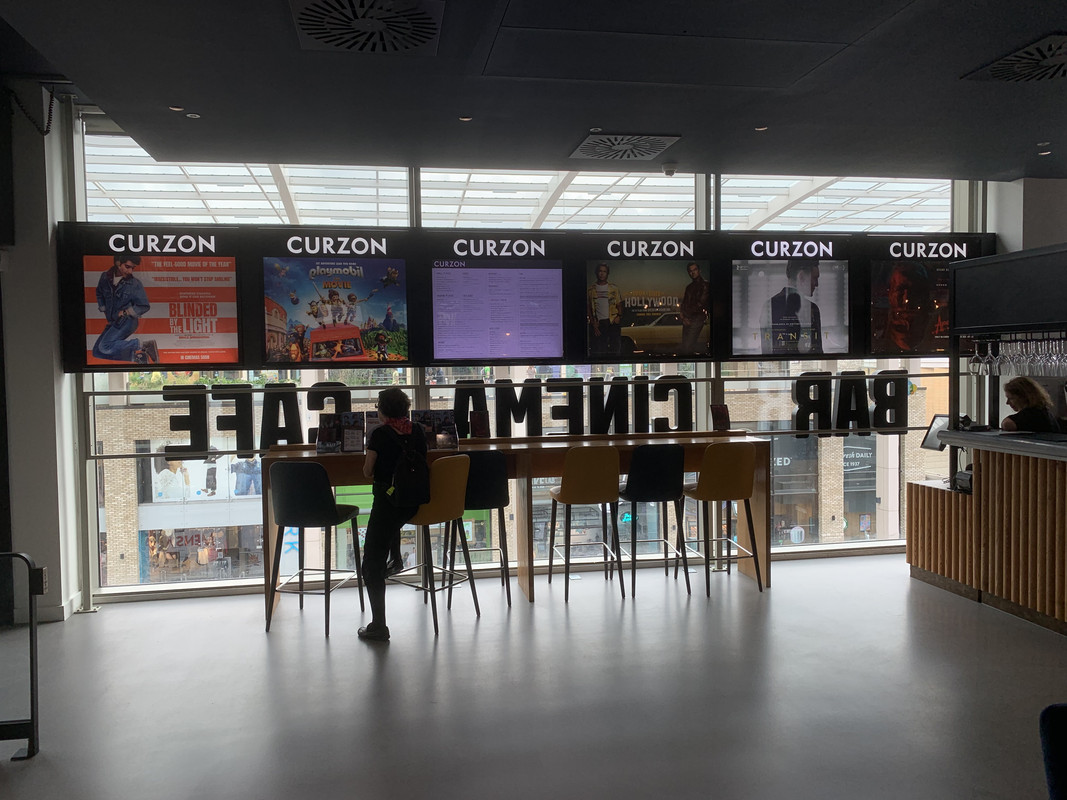 Curzon ; Foto RJ
Od 09. kolovoza 2019. na repertoaru su slijedeći filmovi:
Blinded by the Light (2019.)
Redatelj: Gurinder Chadha
Glume: Aaron Phagura, Nell Williams, Viveik Kalra
Trajanje: 114 minuta
Sadržaj:
Can't start a fire without a spark, and you can't become a world-famous writer when you're from Luton. Or so Javed (Viviek Kalra) thinks.
It's 1987, and it's not easy being British Pakistani in a commuter town living through the tatters of Thatcher's Britain. But salvation arrives in the unlikely shape of Bruce Springsteen, whose tales of ragged working class glory ignite a new confidence in Javed.
Taking Sarfraz Manzoor's memoir and digging deep into the cross-cultural connections between Bury Park, Luton and Asbury Park, New Jersey, this is a feel good British story powered by the bulletproof music of The Boss.
Gurinder Chadha (Bend It Like Beckham, Viceroy's House) once again works complex British history into a winning, well-observed and frequently hilarious take on growing up.
With great performences from the young cast, as well as Kulvinder Ghir, Rob Brydon and Sally Phillips, this one's born to run.
---
Playmobil (2019.)
Redatelj: Lino DiSalvo
Glume: Anya Taylor-Joy, Daniel Radcliffe, Kenan Thompson
Trajanje: 99 minuta
Sadržaj:
Come with us now of a magical adventure through the sprawling and imaginative universe of Playmobil. Packed with humour and excitement the film combines endearing and hilarious characters, thrilling adventure and breathtaking scenery in this originally animated heart-warming tale.
When her younger brother Charlie (Gabriel Bateman) unexpectedly disappears into the magical, animated universe of Playmobil, unprepared Marla (Anya Taylor-Joy) must go on a quest of a lifetime to bring him home.
As she sets off on a fantastic journey across stunning new worlds, Marla teams up with some unlikely and heroic new friends – the smooth-talking food truck driver Del (Jim Gaffigan), the dashing and charismatic secret agent Rex Dasher (Daniel Radcliffe), a wholehearted misfit robot, an extravagant fairy-godmother (Meghan Trainor) and many more.
---
The Current War (2017.)
Redatelj: Alfonso Gomez-Rejon
Glume: Benedict Cumberbatch, Katherine Waterston, Michael Shannon, Nicholas Hoult
Trajanje: 108 minuta
Sadržaj:
Power changes everything in this compelling recreation of Thomas Edison's battle with George Westinghouse to be the dominant force in electricity.
Edison (Benedict Cumberbatch) and Westinghouse (Michael Shannon) use the power of the press, flashy gimmicks and rope in Nikolai Tesla (Nicholas Hoult) in an all out war that gets to the heart of American commerce and competition.
Director Alfonso Gomez-Rejon (Me, Earl and the Dying Girl) charges the film with visual spark throughout, and brings electric performance from the superb cast (including Katherine Waterston, Tom Holland and Tuppence Middleton).
---
Photograph (2019.)
Redatelj: Ritesh Batra
Glume: Nawazuddin Siddiqui, Sanya Malhotra, Farrukh Jaffar, Denzil Smith
Trajanje: 108 minuta
Sadržaj:
Ritesh Batra, the director of The Lunchbox, returns with this beautifully realised, Mumbai-set would-be-romance.
Rafi is a photographer who takes a picture of a stranger in front of The Gateway of India. He pretends it's his girlfriend, but when his grandmother announces her intention to visit, he must magic up the real life young woman.
This sets in motion a comedy of errors that is as poignant, bittersweet and deliciously delightful as Batra's acclaimed debut.
Also available to stream exclusively with Curzon Home Cinema
---
The Lion King (2019.)
Redatelj: Jon Favreau
Glume: Donald Glover, James Earl Jones, Beyonce Knowles-Carter
Trajanje: 120 minuta
Sadržaj:
The Lion King is one of the crowning achievements of Disney's 90s Renaissance. This new live action remake brings eye-popping photorealism to the Hamlet-like story of a lion cub accepting his responsibilities.
Assembling a brilliant voice cast – including Donald Glover, Beyoncé, Seth Rogen, John Oliver, Chiwetel Ejiofor and James Earl Jones – expect to see the brilliant songs, winning humour and heart-breaking tragedy anew.
Following The Jungle Book, Jon Favreau once again shows he can marshal an incredible digital spectacle, while also deftly honouring a beloved childhood favourite. With visuals that rival Planet Earth, this is a superb reimagining of an African legend.
---
Fast & Furious: Hobbs & Shaw (2019.)
Redatelj: David Leitch
Glume: Dwayne Johnson, Jason Statham, Idris Elba
Trajanje: 134 minuta
Sadržaj:
Dwayne Johnson and Jason Statham take an offramp from the juggernaut 'Fast & Furious' convoy for this stand alone tale featuring two of the series favourite characters.
Rogue outsider Shaw (Statham) and US agent Hobbs (Johnson) are forced put their deep loathing for each other aside to fight back against Idris Elba's Brixton, a genetically enhanced super villain.
The odd couple action film has a venerable history, from 'Lethal Weapon' to '21 Jump Street'. Statham and Johnson are excellent foils to each other, blending kinetic action with deadpan antipathy and pitch perfect physical comedy.
---
Midsommar (2019.)
Redatelj: Ari Aster
Glume: Florence Pugh, Jack Reynor, Will Poulter
Trajanje: 147 minuta
Sadržaj:
From the visionary mind of Ari Aster comes a dread-soaked cinematic fairytale where a world of darkness unfolds in broad daylight.
What begins as a carefree summer holiday in a land of eternal sunlight takes a sinister turn when the insular villagers invite their guests to partake in festivities that render the pastoral paradise increasingly unnerving and viscerally disturbing.
Dani (Florence Pugh, Lady Macbeth) and Christian (Jack Reynor) are a young American couple with a relationship on the brink of falling apart. But after a family tragedy keeps them together, a grieving Dani invites herself to join Christian and his friends on a trip to a once-in-a-lifetime midsummer festival in a remote Swedish village.
---
Spider-Man: Far From Home (2019.)
Redatelj: Jon Watts
Glume: Tom Holland, Zendaya
Trajanje: 135 minuta
Sadržaj:
The first film in the Marvel Cinematic Universe following the jaw-dropping events of Avengers: Endgame, Spider-Man: Far from Home find everyone's favourite web slinger (played by Tom Holland) taking a well-earned break on a school trip to Europe.
Unfortunately, he's pulled away from the Renaissance architecture – and a chance to share his feelings with MJ (Zendaya) – by the arrival of Nick Fury (Samuel L. Jackson) and Mysterio (Jake Gyllenhaal) to battle The Elementals.
A pleasing balance between teenage hijinks and world-threatening peril, this latest superhero treat takes the adolescent arachnid to London and Venice.
This film contains a sequence of flashing lights which might affect those who are susceptible to photosensitive epilepsy.
---
Yesterday (2019.)
Redatelj: Danny Boyle
Glume: Himesh Patel, Kate McKinnon, Lily James, Ed Sheeran
Trajanje: 117 minuta
Sadržaj:
What if you were the only man on Earth able to remember the iconic music of The Beatles?
A collaboration up there with Lennon-McCartney, Yesterday is the brain child of director Danny Boyle (Slumdog Millionaire, Trainspotting) and screenwriter Richard Curtis (Four Weddings and a Funeral, Love Actually). As full of soul and heart as any of the Liverpool lads best tracks, this is an hilarious story of finding your own voice.
Jack's (Himesh Patel) career as a singer-songwriter is not going well. His friend Ellie (Lily James) thinks he's got talent, but no one else agrees. But after a mysterious blackout, it turns out he's the only one who can recall the Fab Four's back catalogue. With the iconic songs in his arsenal, he becomes world famous, but at what cost?
UK release date 28 June
---
Toy Story 4 (2019.)
Redatelj: Josh Cooley
Glume: Tom Hanks, Tim Allen, Joan Cusack
Trajanje: 100 minuta
Sadržaj:
In the latest instalment of Pixar's beloved series, Woody, Buzz and the rest of the playroom must contend with 'Forky', a plastic spork in denial about his status as a toy.
Their new child Bonnie embarks on a road trip and when Forky heads out on his own, the other toys must track him down, discovering a whole new world in the process.
One of animation's enduring favourites, this fourth entry retains the effortless charm of Tim Allen's Buzz Lightyear and Tom Hanks' Woody, but also adds the voice work of comedy duo Keegan-Michael Key and Jordan Peele.
Expect another perfect blend of action set pieces, light touch comedy and nostalgia for days past.
---
Transit (2018.)
Redatelj: Christian Petzold
Franz Rogowski, Paula Beer
Trajanje: 102 minuta
Sadržaj:
UK release date 16 August
An audacious concept lies at the heart of the new drama by acclaimed German filmmaker Christian Petzold (Barbara, Phoenix).
Transposed from a 1942 novella to a modern day setting, it finds a group of migrants and refugees borderless, awaiting visas and in hope of a new beginning. Georg has taken on the identity of a dead writer and with his new documents plans to start a life in Mexico.
Everything changes when he meets Maria, the writer's wife and falls in love with her.
Also available to stream exclusively with Curzon Home Cinema
---
Apocalypse Now: The Final Cut (2019.)
Redatelj: Francis Ford Coppola
Glume: Marlon Brando, Martin Sheen, Robert Duval
Trajanje: 183 minuta
Sadržaj:
Forty years after its original release, audiences will get the chance to experience 'Apocalypse Now Final Cut', a never-before-seen and newly restored cut of Coppola's spectacular cinematic masterpiece in a way which the director believes "looks better than it has ever looked and sounds better than it has ever sounded".
Restored from the original negative for the first time ever, 'Apocalypse Now Final Cut' is Coppola's most realized version of his multi-awarded classic – a haunting journey into madness that has fascinated generations of movie lovers.
Prerecorded Q&A:
Screening are followed by Q&A footage with Coppola and director Steven Soderbergh, recorded at the 2019 Tribeca Film Festival and exclusive to cinemas.
---
Once Upon a Time in … Hollywood (2019.)
Redatelj: Quentin Tarantino
Glume: Leonardo DiCaprio, Brad Pitt, Al Pacino, Margot Robbie
Trajanje: 161 minuta
Sadržaj:
Quentin Tarantino's ninth feature arrives, basking in Cannes success. This kaleidoscopic tale of the Hollywood backlot is richly expansive, able to capture the forces rubbing against each other in 1969, from movie moguls, to hippie burnouts to timeless stars like Steve McQueen (Damian Lewis) and Bruce Lee (Mike Moh).
Our guides through this world are Rick Dalton (Leonardo DiCaprio) – an action hero whose star is slowly falling – and his affable stunt double Cliff Booth (Brad Pitt). As Rick battles to stay relevant – from B pictures to spaghetti Westerns – they pass through Hollywood's digestive system, but will they be chewed up and spat out?
As you might expect from someone as entranced by cinema history as Quentin Tarantino, this is a love letter to filmmaking, alive with swoon-worthy period detail. Tarantino has never struggled to create perfect scenes, but his real craft here is in allowing worlds to collide, as the Manson family infect the Hollywood elite.
With a cast to die for (Al Pacino, Margot Robbie, Kurt Russell and Dakota Fanning to name the smallest sample), Tarantino gives us an outrageous tale worthy of his finest.
35mm screenings at Curzon Soho:
Selected screenings at Curzon Soho will be screened on 35mm print. These screenings will be designated by the 35mm label.
[izvor informacije Curzon]