Filmski program se u britanskim kinima mijenja se u petak. Multipleks Curzon nalazi se u West Gateu u Oxfordu, a čiji ćemo program predstavljati narednih mjesec dana. Kino ima pet dvorana (144 + 172 + 134 + 82 + 82) sjedala, te kafić u kojem možete udobno pričekati, popiti kavu, piće ili nešto pojesti, prije projekcije filma.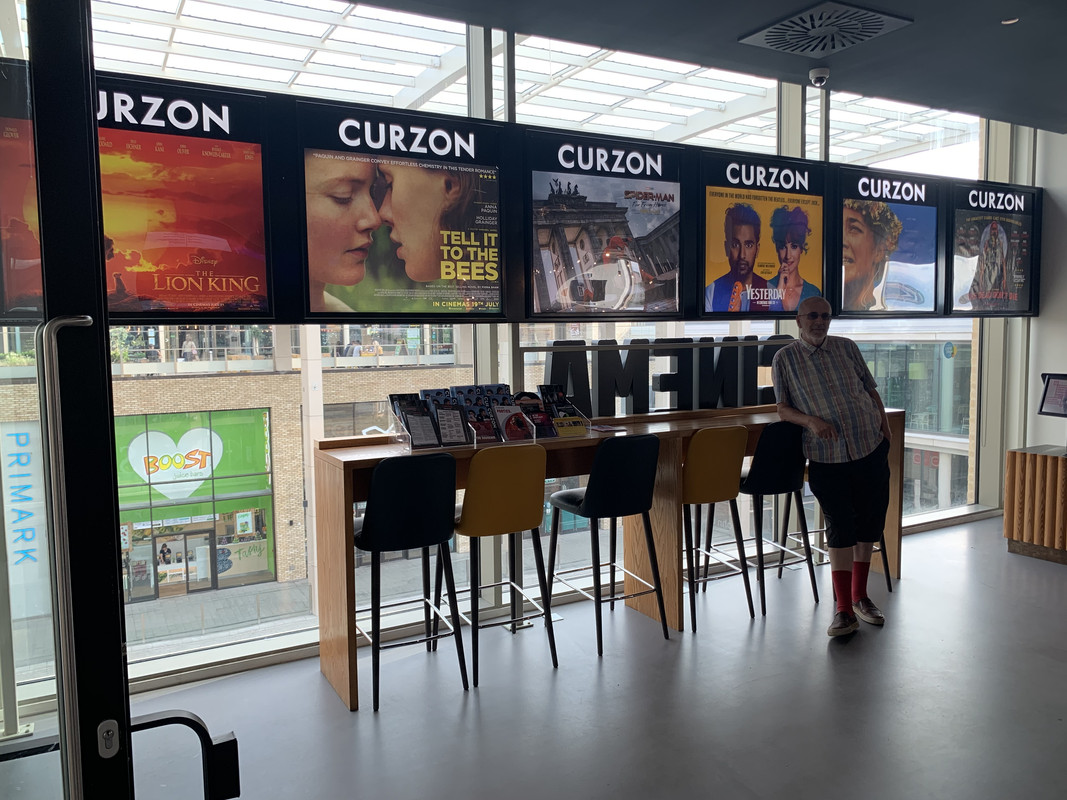 Curzon ; Foto VJB
Od 19. srpnja na repertoaru su slijedeći filmovi:
The Lion King 2D & 3D (2019.)
Redatelj: Jon Favreau
Glume: Donald Glover, James Earl Jones, Beyonce Knowles-Carter
Trajanje: 120 minuta
Sadržaj:
The Lion King is one of the crowning achievements of Disney's 90s Renaissance. This new live action remake brings eye-popping photorealism to the Hamlet-like story of a lion cub accepting his responsibilities.
Assembling a brilliant voice cast – including Donald Glover, Beyoncé, Seth Rogen, John Oliver, Chiwetel Ejiofor and James Earl Jones – expect to see the brilliant songs, winning humour and heart-breaking tragedy anew.
Following The Jungle Book, Jon Favreau once again shows he can marshal an incredible digital spectacle, while also deftly honouring a beloved childhood favourite. With visuals that rival Planet Earth, this is a superb reimagining of an African legend.
---
Midsommar (2019.)
Redatelj: Ari Aster
Glume: Florence Pugh, Jack Reynor, Will Poulter
Trajanje: 147 minuta
Sadržaj:
From the visionary mind of Ari Aster comes a dread-soaked cinematic fairytale where a world of darkness unfolds in broad daylight.
What begins as a carefree summer holiday in a land of eternal sunlight takes a sinister turn when the insular villagers invite their guests to partake in festivities that render the pastoral paradise increasingly unnerving and viscerally disturbing.
Dani (Florence Pugh, Lady Macbeth) and Christian (Jack Reynor) are a young American couple with a relationship on the brink of falling apart. But after a family tragedy keeps them together, a grieving Dani invites herself to join Christian and his friends on a trip to a once-in-a-lifetime midsummer festival in a remote Swedish village.
---
Tell It To The Bees (2018.)
Redatelj: Annabel Jankel
Glume: Anna Paquin, Gregor Selkirk, Holliday Grainger
Trajanje: 108 minuta
Sadržaj:
Starring Holliday Grainger and Oscar winner Anna Paquin, Tell It To the Bees tells an impassioned story of forbidden love and prejudice.
1950s Scotland: Lydia (Grainger) lives on the margins of the community as a single mother. Her son is obsessed with local bee colonies kept by Jean (Paquin), the town's new doctor.
The new closeness between Lydia and Jean confuses her son, and gossip spreads quickly. Can their love overcome the restrictions of this tight-knit town?
---
Rocketman Sing-Along (2019.)
Redatelj: Dexter Fletcher
Glume: Dexter Fletcher
Starring: Taron Egerton, Jamie Bell, Richard Madden, Bryce Dallas Howard
Trajanje: 121 minuta
Sadržaj:
With electric camp and epic swagger, the early years of Elton John are brought to the screen for an anthemic sing-a-long.
Taron Egerton charms as the man once known as Reg Dwight, from his journey to unassuming prog-band keyboardist to bona fide pop royalty. With the help of his mother (Bryce Dallas Howard), lyricist Bernie Taupin (Jamie Bell) and manager John Reid (Richard Madden), we see the rise of one of the Twentieth Century's true musical icons.
And don't stop him now! Dexter Fletcher, director of the smash Queen biopic Bohemian Rhapsody is back behind the camera for this one.
---
Spider-Man: Far From Home (2019.)
Redatelj: Jon Watts
Glume: Tom Holland, Zendaya
Trajanje: 135 minuta
Sadržaj:
The first film in the Marvel Cinematic Universe following the jaw-dropping events of Avengers: Endgame, Spider-Man: Far from Home find everyone's favourite web slinger (played by Tom Holland) taking a well-earned break on a school trip to Europe.
Unfortunately, he's pulled away from the Renaissance architecture – and a chance to share his feelings with MJ (Zendaya) – by the arrival of Nick Fury (Samuel L. Jackson) and Mysterio (Jake Gyllenhaal) to battle The Elementals.
A pleasing balance between teenage hijinks and world-threatening peril, this latest superhero treat takes the adolescent arachnid to London and Venice.
This film contains a sequence of flashing lights which might affect those who are susceptible to photosensitive epilepsy.
---
Yesterday (2019.)
Redatelj: Danny Boyle
Glume: Himesh Patel, Kate McKinnon, Lily James, Ed Sheeran
Trajanje: 117 minuta
Sadržaj:
What if you were the only man on Earth able to remember the iconic music of The Beatles?
A collaboration up there with Lennon-McCartney, Yesterday is the brain child of director Danny Boyle (Slumdog Millionaire, Trainspotting) and screenwriter Richard Curtis (Four Weddings and a Funeral, Love Actually). As full of soul and heart as any of the Liverpool lads best tracks, this is an hilarious story of finding your own voice.
Jack's (Himesh Patel) career as a singer-songwriter is not going well. His friend Ellie (Lily James) thinks he's got talent, but no one else agrees. But after a mysterious blackout, it turns out he's the only one who can recall the Fab Four's back catalogue. With the iconic songs in his arsenal, he becomes world famous, but at what cost?
UK release date 28 June
---
The Dead Don't Die (2019.)
Redatelj: Jim Jarmusch
Glume: Adam Driver, Bill Murray, Chloë Sevigny, Tilda Swinton
Trajanje: 105 minuta
Sadržaj:
Jim Jarmusch resurrects the gang for his take on the zombie comedy. Bill Murray, Chloë Sevigny and Adam Driver are small town cops working their beat when nature turns on itself, the sun refuses to set and the dead rise from the grave. Putting aside chicken theft, they set out to get to the bottom of these strange ghouls, with the help of Tilda Swinton's mortician (who's handy with a samurai sword if needs be).
Working with the greatest zombie cast ever disassembled (including Tom Waits, Carol Kane, Rosie Perez, Iggy Pop, RZA, Selena Gomez and Steve Buscemi), Jarmusch has created a deadpan treat that adapts the myth of the zombie for a modern era, where the undead are just as likely to moan in need for 'wifi' as 'brains'.
---
Toy Story 4 (2019.)
Redatelj: Josh Cooley
Glume: Tom Hanks, Tim Allen, Joan Cusack
Trajanje: 100 minuta
Sadržaj:
In the latest instalment of Pixar's beloved series, Woody, Buzz and the rest of the playroom must contend with 'Forky', a plastic spork in denial about his status as a toy.
Their new child Bonnie embarks on a road trip and when Forky heads out on his own, the other toys must track him down, discovering a whole new world in the process.
One of animation's enduring favourites, this fourth entry retains the effortless charm of Tim Allen's Buzz Lightyear and Tom Hanks' Woody, but also adds the voice work of comedy duo Keegan-Michael Key and Jordan Peele.
Expect another perfect blend of action set pieces, light touch comedy and nostalgia for days past.
---
Marianne & Leonard: Words of Love (2019.)
Redatelj: Nick Broomfield
Glume: Leonard Cohen, Marianne Ihlen
Trajanje: 102 minute
Prerecorded Q&A screening
Preview screening + prerecorded Q&A with director Nick Broomfield, hosted by Jools Holland.
Tuesday 23 July | Aldgate | Canterbury | Knutsford | Oxford | Richmond | Ripon | Sheffield | Soho | Victoria | Wimbledon
Wednesday 24 July | Mayfair
With thanks to Dogwoof.
UK release date 26 July
Marianne & Leonard: Words Of Love is a beautiful yet tragic love story between Leonard Cohen and his Norwegian muse Marianne Ihlen. Their love began on the idyllic Greek island of Hydra in 1960 as part of a bohemian community of foreign artists, writers and musicians.
The film follows their relationship from the early days on Hydra, a humble time of 'free love' and open marriage, to how their love evolved when Leonard became a successful musician.
It was on Hydra in 1968 that director Nick Broomfield, then aged 20, first met Marianne Ihlen. Marianne introduced him to Leonard Cohen's music and also encouraged Nick to make his first film and was an enormous influence on him.
Marianne and Leonard's was a love story that would continue for the rest of their lives. Along the way we learn of the tragedy that befell those that could not survive the beauty of Hydra, the highs and lows of Leonard's career, and the inspirational power that Marianne possessed.
---
NT Live 2018-19: The Lehman Trilogy (2019.)
Redatelj: Sam Mendes
Glume: Simon Russell Beale, Adam Godley, Ben Miles
Trajanje: 240 minute
Thursday 25 July 2019 – Satellite
Sadržaj:
By Stefano Massini, adapted by Ben Power.
The story of a family and a company that changed the world, told in three parts on a single evening. Academy Award-winner Sam Mendes (Skyfall, The Ferryman) directs Simon Russell Beale, Adam Godley and Ben Miles who play the Lehman Brothers, their sons and grandsons.
On a cold September morning in 1844 a young man from Bavaria stands on a New York dockside. Dreaming of a new life in the new world. He is joined by his two brothers and an American epic begins.
163 years later, the firm they establish – Lehman Brothers – spectacularly collapses into bankruptcy, and triggers the largest financial crisis in history.
This critically acclaimed and five-time Olivier Award nominated play features stunning set design from Es Devlin (NT Live: Hamlet) and will be broadcast live from London's West End as part of National Theatre Live's 10th Birthday season.
[izvor informacije Curzon]