Mjuzikl opisuje Amélie, kćer jedinicu distanciranih roditelja. U uvodnim scenama majka Amelie demonstrira slavni Zenovov (pseudo)-paradoks o gibajućem tijelu koje nikada ne može doći od točke A do točke B jer nakon sto prođe prvu polovicu puta, iduća polovica se smanjuje na pola i svaka iduća polovica se dijeli na pola, itd. Predstava opisuje paradoks preko broda koji plovi na moru, umjesto originalne verzije o Ahileju i kornjači. Ova jednostavna tema o nepremostivnoj udaljenosti između ljudi unatoč njihovoj naočiglednoj bliskosti ponavlja se u više navrata: Améliejina udaljenost od oca nakon smrti majke, udaljenost njezinog prijatelje od žene koja je česti gost kafića u kojem Amélie radi kao konobarica, udaljenost njezinog prijatelja slikara od svoje vizije Renoirove djevoke s čašom koju pokušava reproducirati, i u konačnici Amélijine udaljenosti od misterioznog stranca koji skuplja rastrgane fotografije po kabinima za fotografiranje po Pariskim metroima. Amélie nakon smrti majke napušta oca i nalazi posao konobarice u pariškom kafiću. Iako ima mnogo prijatelja, s nikim ne dijeli nikakve romantične interese, niti ima ikoga s kim je zapravo bliska. Rješenje Zenovog paradoksa predstava nalazi u kompromisu – obje strane moraju napraviti korak jedna prema drugoj, umjesto stvarnog razriješenja u vidu beskonačnih redova.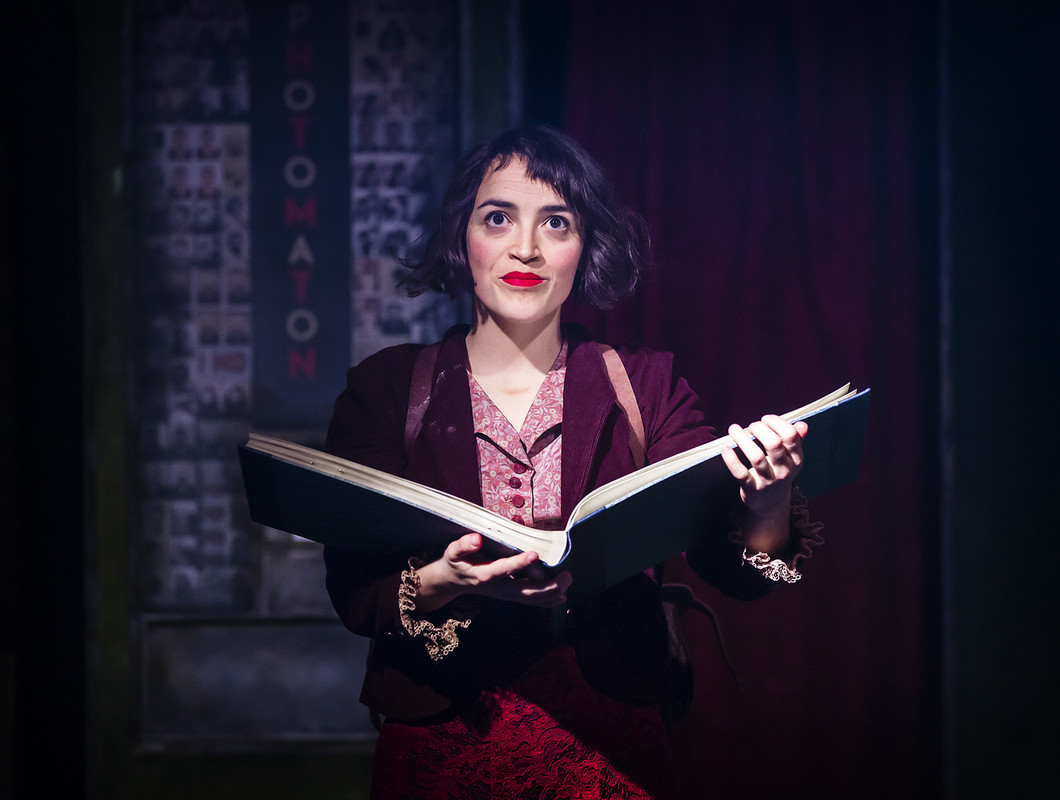 Amélie The Musical; Fotografiju ustupio The New Theatre Oxford – Amelie The Musical_Pamela Raith Photography
Amelie je vizualno izuzetno izražajan mjuzikl. Scenografija je diznajirana na način da prikazuje multiple lokacije. U isto vrijeme prikazana je stanica podzemne željeznice, kabina za fotografiranje, katedralu Notre Dame, stan na Montmartreu i caffee bar, ovisno kako se pojedini elementi poslože. Zanimljiv element je upotreba lutke kao Amelie djevojčice, paraleno uz egzistenciju odrasle Amelie, za demonstraciju njezinog djetinjstva. Prvih tridesetak minuta posvećeno je 'uvodu' kojim se prikazuje Amelijino odrastanje i odnos s roditeljima.
Uz pjesmu, uživo se izvodi i glazba s gotovo punim orkestrom (klavir, violina, flauta, violončelo, zvečke, itd.)
Da je Audrey Brisson (Amelie) radila s Cirque Du Soleil (kao akrobat) vidljivo je iz scene u kojoj se elegantno, jednom rukom držeći za luster, podiže do prvog kata scenografske konstrukcije u svoj stan. Francusko-kanadska glumica neodoljivo podsjeća na filmsku Amelie Audrey Tautou. Mjuzikl je i rađen prema francuskopm filmu iz 2001. godine s pet nominacija za Oskara.
Naš boravak u New Theatre Oxford bio je, kao i uvijek, popraćen dobrodošlicom. Počašćeni pićima u ugodnom kazališnom Ambassador loungeu proveli smo ugodnih pola sata prije početka predstave.
Vendi i Berislav Buča
Oxford, 18 6 2019
---
AMELIE THE MUSICAL comes to Oxford
WEST End performer, Strictly Come Dancing favourite and television actor Danny Mac has been confirmed to join the UK tour of Amélie The Musical, based on the much-loved, five-time Oscar®-nominated film.
The production, an adaptation of the much-loved 2001 award-winning film Amélie, comes to the New Theatre Oxford from June 17 – 22, 2019.
Joining previously announced French-Canadian stage and screen star Audrey Brisson as Amélie Poulain, Danny Mac will play the sweet daydreamer Nino Quincampoix.
Amélie is the story of an astonishing young woman who lives quietly in the world, but loudly in her mind. She secretly improvises small, but extraordinary acts of kindness that bring happiness to those around her. But when a chance at love comes her way, Amélie realises that to find her own contentment she'll have to risk everything and say what's in her heart. Although times are hard for dreamers, Amélie is someone to believe in…
Danny Mac captured the nation's hearts and received overwhelming support during his incredible time on flagship entertainment show Strictly Come Dancing (BBC One) in 2016, with a series of perfect scores taking him to the final. Having begun his performing career at an early age in Cameron Mackintosh's tour of Les Miserables, he reprised the role a year later in the West End. His other theatre credits include Wicked (West End), Legally Blonde (Curve Theatre), On The Town (Regent's Park Open Air Theatre), White Christmas (Leicester Curve) and his award-winning turn in Sunset Boulevard (UK Tour).
Audrey Brisson's theatre credits include: The Elephantom, Pinocchio and Pericles (National Theatre), Midnight's Pumpkin and The Wild Bride (Kneehigh), The Lion, The Witch and The Wardrobe (Kensington Gardens), Dead Dog in a Suitcase & Other Love Songs (Kneehigh), Romeo and Juliet (Rose Theatre, Kingston), The Flying Lovers of Vitebsk (Kneehigh), The Grinning Man (Bristol Old Vic), The Strada (UK Tour & The Other Palace). Her film credits include: Hereafter directed by Clint Eastwood and W.E. directed by Madonna. Television includes: Outlander (Amazon), Money (BBC Two). Radio includes the title role in Amy Dorrit (BBC Radio).
With music by Hem's Daniel Messé, lyrics by Nathan Tysen and Daniel Messé and book by Craig Lucas, this new musical adaptation of the five-time Oscar®-nominated film written by Jean-Pierre Jeunet and Guillaume Laurant, will be directed by Michael Fentiman.
The original film, Le Fabuleux Destin D'Amélie Poulain, was released in 2001, starring Audrey Tautou and Matthieu Kassovitz. Taking over $33 million in a limited theatrical release, it is to date the highest-grossing French-language film released in the United States, and one of the biggest international successes for a French film. Amélie won Best Film at the European Film Awards, four César Awards in 2002 (including Best Film and Best Director), two BAFTA Awards (including Best Original Screenplay), and was nominated for five Academy Awards, including best foreign language film.
Amélie The Musical was first staged in California in 2015 and was described as an 'enchanting act of theatrical reinvention' (The Los Angeles Times).
Amélie The Musical, is produced by Hartshorn – Hook Productions, Selladoor Productions, The Watermill Theatre and Broadway Asia.
[izvor informacije The New Theatre Oxford]