Baby Driver (2017.)
Redatelj: Edgar Wright
Akcijski filmovi s adrenalinskom vožnjom za podlogu imaju dobru glazbu kako bi naglasili žestinu akcija. I u tom žanru nađe se dobrih iznimki koje pokazuje koliko je vitalan taj žanr kojeg poklonici art filmova baš i ne vole. 'Vozač' je dobar primjer fila koji pokazuje kako se uvijek nađe neki kreativac koji ga može osvježiti na najbolji način. Automobilske jurnjave osim 'začinit' će osim zanimljivom i intrigantnom radnjom i odličnom glazbom.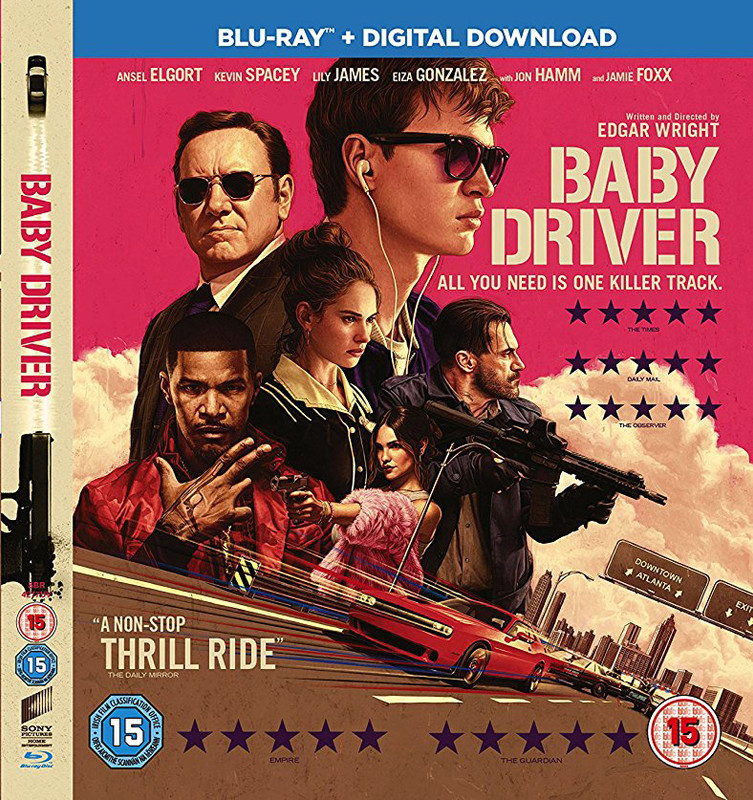 Edgar Wright redateljsku karijeru razvijao je na televiziji, a prvenstvo je poznat po komedijama kao što su 'Noć glupih mrtvaca' (2004.), 'Ekspozivni murjaci' (2007.), 'Scott Pilgrim protiv svijeta' (2010.) i 'Kraj svijeta' (2013.). Uz to što je prvenstveno akcijski adrenalinski triler, 'Vozač' je krimić koji nas čitavo vrijeme drži u neizvjesnosti, a ima i elemenata komedije.
Glavni lik, mladić s nadimkom Baby (Ansel Elgort), sudjeluje kao vozač u pljačkama koje organizira njegov tajanstveni mentor Doc (Kevin Spacey). Naime, jednom je Baby nešto ukrao Docu i sada mora otplatiti dug kao vozač i potpora Docovim gangsterima. Baby je autističan lik, i ne obazire se previše na okolinu. Budući da je vrhunski vozač, Doc ima puno povjerenje u njega, što nervira lopove koji se izmjenjuju u pljačkama. U međuvremenu Baby upozna djevojku koja mu se sviđa. A kada konačno Docu otplati dug i počne pošteno raditi, Doc se ponovo pojavi s ponudom za posao koji Baby ne može odbiti…
Baby je jedinstveni lik u novijim krimićima. Ne komunicira s drugima, stalno sa slušalicama u ušima, i naizgled ništa ga se ne tiče što se oko njega događa, a što dovodi do ludila njegove suradnike. Kada sjedne u auto i treba obaviti zadatak, glazba ga pokreće u vratolomne akcije. Film se zadržava u granicama realnosti, Baby nije svemoguć, iako će mnoge prepreke uspješno izbjeći. A kada njegov privatni život postane prepreka u gangsterskom poslu, mora doći do sukoba.
'Vozač' je film u kojem bi se neke sitnice možda i bolje mogle riješiti (kao primjerice lik Doca koji se u završnoj sceni ne ponaša u skladu sa svojim karakterom), ali je uzbudljiv i nudi mnogoviše od mnogih filmova na kinorepertoaru.
Blu Ray dodaci (ima ih gomila!):
• Extended/Deleted Scenes – 20 minutes of extended scenes and a few moments that were dropped from the final cut.
• Mozart In A Go-Kart: Ansel Drives – Ride shotgun with star Ansel Elgort as he works with the talented stunt drivers to become the ultimate getaway driver.
• I Need A Killer Track: The Music – Explore how the film's phenomenal soundtrack dictated both the writing process and all aspects of production on Baby Driver.
• That's My Baby: Edgar Wright – Follow Edgar Wright's vision of Baby Driver from its inception two decades ago, to its ultimate realization on the big screen.
• Meet Your New Crew: Doc's Gang – Led by powerhouse Kevin Spacey, the cast assembled to form Doc's gang is perfectly constructed with stars like Jamie Foxx and Jon Hamm as well as up and coming talent like Eiza González and Jon Bernthal. Go behind the scenes to see this talented group at work as they bring these characters to life.
• Find Something Funky On There: The Choreography – With every frame of Baby Driver set to a specific beat it took precise choreography by the cast, crew and editors to create a cinematic dance like nothing that's been done before. Hear from the choreographer and filmmakers on this groundbreaking process.
• Devil Behind The Wheel: The Car Chases – From closing down Atlanta's interstates to creating eyepopping maneuvers for a variety of vehicles, witness the amazing craftsmanship and sheer determination that made the film's incredible car chases possible.
• Animatics – Check out over 35 minutes of the numerous pre-vis animatics developed by Edgar Wright as part of his meticulous preparation.
• Ansel Elgort Audition – See firsthand the audition that proved without a doubt that Ansel Elgort was the perfect choice for Baby.
• Annotated Coffee Run Rehearsal – Day one of production involved one of the film's most elaborately choreographed sequences where every movement is carefully crafted. Check out the preliminary rehearsal and see the behind the scenes movement in concert with Ansel Elgort's on camera choreography.
• Hair, Make Up & Costume Tests – In this stylized montage, witness the transformation of the actors through costume, hair and make-up tests.
• Mint Royale – "Blue Song" Music Video – This music video directed by Edgar years ago for the band Mint Royale showcases some early inspiration for Baby Driver.
• Complete Storyboard Gallery – See the elaborate storyboards developed for the film in this gallery featuring storyboards for the entire film.
• Director Commentary
• Filmmaker Commentary (Edgar Wright and Director of Photography Bill Pope)
Film na Blu Rayju kupljen je u Velikoj Britaniji za 10 funti! Iako Blu Ray ima hrvatske titlove nije objavljen u Hrvatskoj, a može ga se nabaviti u zemljama Europske Unije, ponekad čak i po manjoj cijeni. .
Robert Jukić, Zagreb, 17.06.2018.
Informacije o Blu Rayju:
Baby Driver
Working Title Films, Big Talk Productions, Double Negative, 2017.
Trajanje: 113 min.
Format: 1080p HD 16:9, 2,39:1
Color: Color
Jezici: engleski, španjolski 5.1 DTS-HD MA; engleski Dolby Surround; češki, engleski Audio Descriptive Track; mađarski, poljski VO 5.1 Dolby Digital
Podnaslovi: engleski, engleski za gluhe, arapski, bugarski, hrvatski, češki, grčki, hebrejski, hindu, mađarski, islandski, poljski, portugalski, rumunjski, srpski, slovački, slovenski, španjolski, turski
Glume: Ansel Elgort, Jon Bernthal, Jon Hamm, Eiza González, Micah Howard, Lily James, Morgan Brown, Kevin Spacey, Morse Diggs, CJ Jones, Sky Ferreira, Lance Palmer, Hudson Meek, Viviana Chavez, Hal Whiteside, Jamie Foxx, Walter Hill (glas)
Baby Driver – Movie Site
Baby Driver – IMDb